---
SPEAKERS
---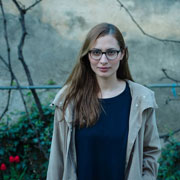 Loredana
Pana
---
Project Manager
Loredana Pană has been working on environmental issues since 2010.
She is a project manager at the Center for Sustainable Policy Ecopolis from 2014.
She has been working for nine years with two NGOs that deal with social, humanitarian, cultural, educational and environmental projects in the Danube Delta. The socio-economic status of the Danube Delta is getting poorer by the year, despite its outstanding cultural and natural heritage.
The Danube Delta is one of the most ethnicly diverse regions in Europe - it is home of more than 12 different ethnic groups. Nevertheless, the area does not benefit of specially designed programmes or strategies for development, harmonized with the needs of its inhabitants and withstanding the local social capital.
Center for Sustainable Policy Ecopolis is a non-governmental organization set up in 2009 to develop public policies based on the principles of sustainable development and finding practical, effective solutions for sustainability issues.
The organization is actively involved in the community development of the Letea village in Danube Delta, where it is working on cultural projects for heritage preservation and promotion of the delta area. www.ecopolis.org.ro
The Ecopolis's projects that Loredana has been involved in are aiming at the sustainable development of the region, especially through empowering and training the locals in order to identify alternative sources of income, while having low environmental impact. Social economy programmes are proven to be excellent opportunities for the local start-ups and the further development of small and medium businesses.