---
SPEAKERS
---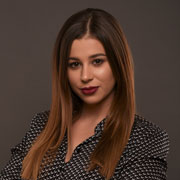 Adriana
Preda
---
Executive Director
Adriana Preda is the Executive Director of The Social Incubator, a Romanian nonprofit organization supporting the social and professional integration of disadvantaged youths across the country.
As a Law Faculty graduate with a LLM master in international arbitration, she was always interested in defending and protecting the fundamental rights of every individual. The cause close to her heart was always the one related with children and teenagers facing difficult situations (social and economic problems, disabilities, human trafficking). In this sense, she has volunteered for different organizations through the years with legal know-how (incl. The National Centre for the Rights of Children with Disabilities). When she decided that her volunteer work is not enough, made a change in her professional path and, in 2015, Adriana joined the cause of The Social Incubator, becoming the first employee of the organization.
In 2017, she took on the executive role and she developed projects of over 500.000 EUR and expanded in all administrative regions in Romania.
Adriana's objective for the current year, as well as that of the organization as a whole, is to support over 1,000 disadvantaged youths in the process of social and professional integration, as well as to develop up to 3 social enterprises meant to provide the organization with a self-funding component.